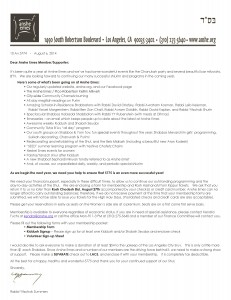 View the Membership Packet Cover Letter
Download 5775 Membership Packet:
Volunteering, Kiddush/Shalosh Seudos Signup, Full Membership Application
Anshe Emes 5775 High Holidays Calendar
|  Membership Level |  Rosh Hashana/Yom Kippur Seats |   Dues |
| --- | --- | --- |
|  Family Membership |  2 seats |  $1500 |
|  Individual Membership |  1 seat |  $750 |
|  Associate Membership |  None |  $600 |
|  First Year of Marriage |  2 seats |  FREE |
|  Additional Seats |  Each |  $180 |
|  Eruv Dues (required by all members) | | $54 |
.
Please send checks to
Anshe Emes
1490 S. Robertson Blvd.
Los Angeles, CA  90035
Or you may pay online, via PayPal, below. PayPal is secure. Use either your PayPal account or a major credit card. Click the button, below, and you will be able to enter the amount you specify.
Please note that PayPal takes a percentage of each transaction as a fee. Payment and donations by check incur no fees. The PayPal option, below, is provided for your convenience.  Anshe Emes loses $45 in fees on a full Family Membership paid through PayPal unless you do a PayPal to PayPal transfer.  Remember to specify MEMBERSHIP DUES in the comment field. 
For detailed directions, visit https://anshe.org/donate/no-fees/
If there is any confusion, PLEASE send a regular check.