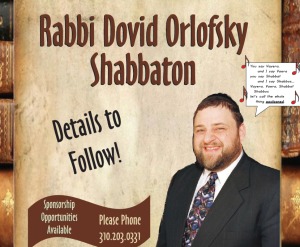 Click image to download the PDF preview flyer
Rabbi Dovid Orlofsky returns to Anshe Emes and brings the funny and meaningful to Pico-Robertson.
This is a Scholar in Residence, not a Shabbaton. No meals. No cost!
Rabbi Orlofsky will be speaking:
Friday evening Oneg Shabbos at 8pm
During the main drasha of the 8:30am Shabbos morning minyan
45 minutes before Mincha at 3:45pm
Shalosh Seudos between Mincha and Maariv
Motzei Shabbos Melave Malka at 8pm
Learn more about Rabbi Dovid Orlofsky.